Spring water and
Equipped beach.
Camping by the lake in Aude Pyrenees
Direct access to Lake Belcaire from your campsite
In a green setting, in the heart of the Aude Pyrenees, the campsite Les chalets du lac Belcaire offers you a unique experience in an enchanting setting.
The campsite is located in the immediate vicinity of Lake Belcaire. You only have 100 meters to go to enjoy the joys of a spring water lake and its equipped beach. A seaside atmosphere to enjoy in the green. A refreshing place in summer, a source of tranquility in winter, the lake is the perfect place to recharge your batteries in any season.
A real leisure centre, the lake is a must-see in high season. Many activities are offered: fishing, swimming, pedal boat, paddle …
Fish in Lake Belcaire
At Les Chalets du lac Belcaire, take advantage of the exceptional location of the lakeside campground to learn or indulge in your favorite hobby, fishing.
Every morning during the summer season, take out your rod and discover where to re-discover the pleasure of fishing. A true paradise for fishermen, this spring stretch of water of more than 2 hectares offers a dream playground for enthusiasts.
To fish in its crystal clear waters, no need for a fishing license, a simple contribution or fishing right of 2 euros is required (+ 2 euros per catch).
Each season, a trout release is organized.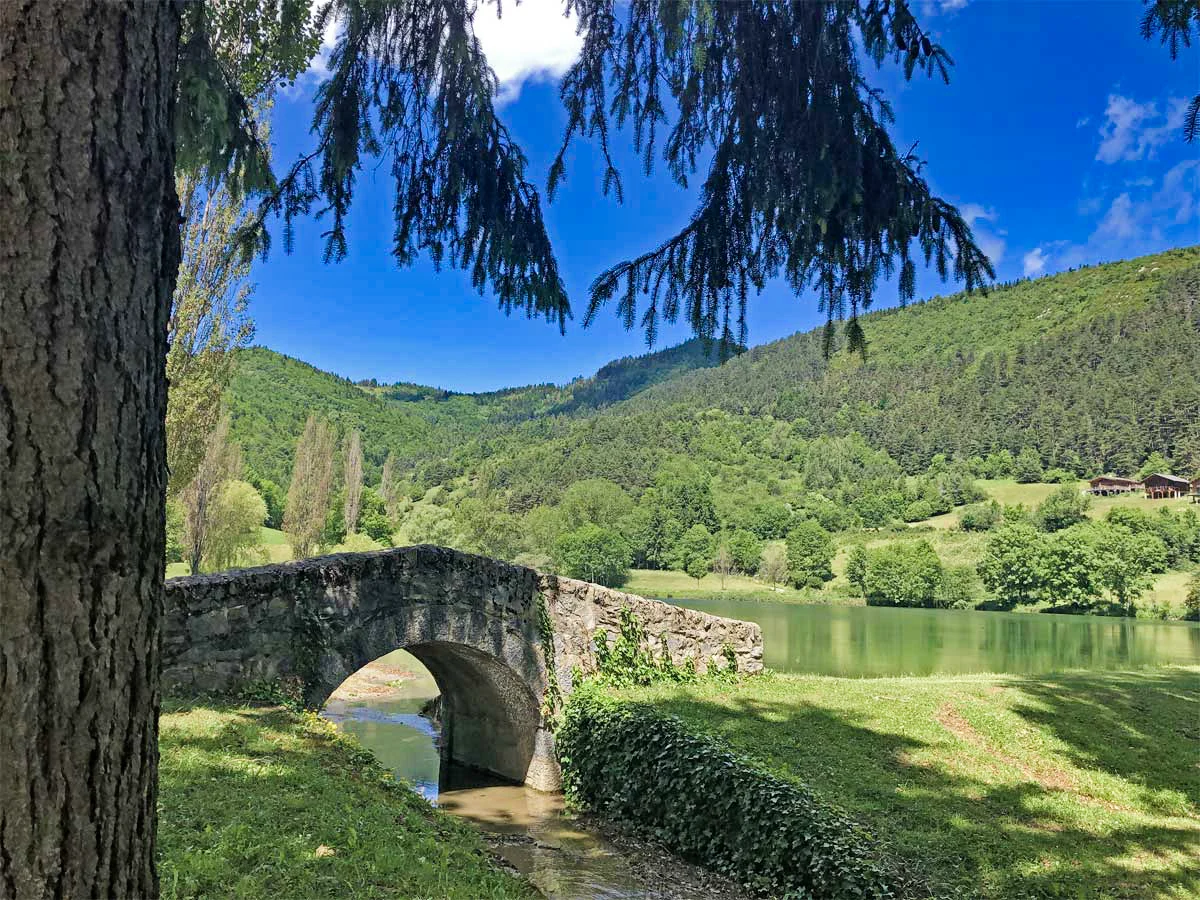 Ideal supervised lake
to rest
Cool off in the supervised lake in Aude region
A holiday with your feet in the water? Book your stay at the Chalets du lac Belcaire to take advantage of the exceptional location of the campsite between lake and mountains. Nestled in lush greenery, Lake Belcaire offers a unique setting for your family swimming.
With an area of more than two hectares, this lake is fed by a spring, which makes its water pure, fresh and temperate. Spacious and shaded, this natural area is the ideal place for your family holidays.
In July and August, enjoy a calm and safe stretch of water where parents and children can splash, wade, swim in a relaxed atmosphere. Marked and supervised during the summer season, Lake Belcaire is the perfect place for you to have fun with your family in complete safety.
Also enjoy the beach to relax and sunbathe in the sun.
Ideal lake to discover paddle boarding
Want to have fun, challenge your balance and recharge your batteries in nature? You've come to the right place! Practice stand-up paddle boarding on Lake Belcaire near the campsite.
In a wooded setting, with a panorama of the Pyrenean mountains, stroll quietly along the water and contemplate breathtaking landscapes in the background. Stand-up paddle is the perfect activity to admire the surrounding nature while practicing a complete sport.
For beginners, the calm waters of Lake Belcaire allow an introduction to stand-up paddle in complete safety.
Don't have a paddle board? Don't worry, we offer inflatable paddle boards for rent.
In addition to stand-up paddle, you can take a family ride thanks to the pedal boat.
Paddle and pedal boat
facing the mountains!
Our swimming pools, our bar and our entertainment