In need of activities?
Come and have fun!
Entertainment and leisure at the campsite in Aude Aude region
Family activities in Belcaire
The playground of the campsite for your children
Children's paradise is located at Les Chalets du lac Belcaire. Suitable for young and old, the playground allows everyone to have fun in complete safety. Everything is done to entertain yourself thanks to the various equipment in free access. With the slide, the climbing net or the turnstile, they will not see the time pass. They will be able to have fun outdoors while making new friends.
Because your children are kings, the campsite has two inflatable structures. They will be able to jump, have fun and laugh freely. With the bouncy castle, let their imagination run wild: adventures guaranteed.
For stronger sensations, your children can try the trampoline with jumps always higher …
In rainy weather, the kids club room allows your cherubs to meet their comrades. They can challenge each other around board games or have fun with different fun games.
Parents will be able to watch their children have fun thanks to the picnic area located nearby.
Games bar in Aude Aude region
Exclusively camping in Aude Aude region, find within the campsite a real games bar. With family, friends or as a couple, we have the game made for you. In the afternoon, evening or rainy weather, gather in a warm and friendly atmosphere. We offer a selection of games adapted to everyone. There is something for everyone.
With more than 150 games at your disposal, revive your child's soul and embark on a frenzied game. Find the most classic games (Monopoly, risk, triomino …), atmosphere games, strategy games, speed games, small aperitif games.

Service with supplement.
Game catalog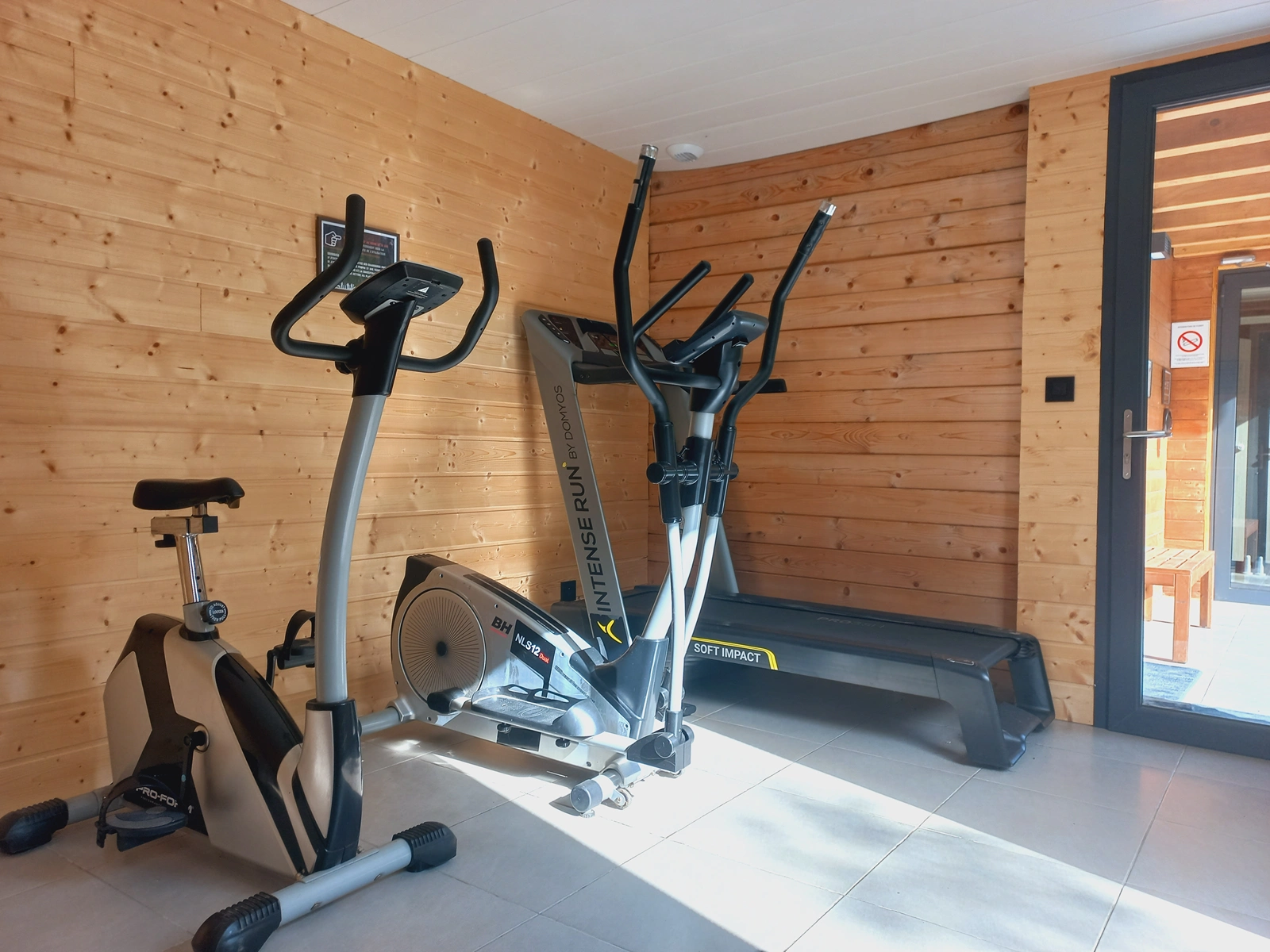 Stay fit
even on vacation!
Keep fit with the campsite's gym
To keep fit during your stay while enjoying the holidays, choose the campsite with entertainment in Belcaire. A fitness room is at your disposal to exercise without counting and take care of you.
With free access, the gym is open every day and offers a wide choice of machines. With unlimited access, the fitness room is equipped with an abs bench, bike, elliptical trainer and treadmill.
Equipped with a TV and radio, sculpt your body in a relaxed and relaxed atmosphere.
Sports fields at the campsite
In a green setting bathed in sunshine, the campsite with all its activities offers an important place for outdoor sports. Multiple facilities in the campsite or in the immediate vicinity will allow you to fully enjoy your stay.
Racquet sports enthusiasts? Two ping-pong tables with free access await you within the campsite. You can also book the tennis court next to the lake for a set or two.
For lovers of collective games, find a volleyball and basketball court 100 meters from the campsite.
Let's not forget the essential of the holidays, petanque. Compete in a warm atmosphere around a game of bowls.
Sport
for all tastes!
Activities at the campsite in the Aude
Your holiday at Les Chalets du lac Belcaire does not only rhyme with sport and relaxation. Take advantage of our animations to have fun in a warm and friendly atmosphere. The key word? Have fun!
During the summer season, our various activities will punctuate your daily life. At any time of the day there is always something to do at the campsite with all its animations. In the early morning, try yourself at water aerobics.

Take part in the famous petanque competition in the late afternoon. Don't forget the small farmers' market in the evening… Every day, every week, we offer you animations as rich as varied.
Animations
all season long!
Full of activities
to keep them busy!
Top activities at the kids' club
At Les chalets du lac Belcaire campsite, the kids club will delight children and parents alike. Totally free, the children's club welcomes your children from 5 to 12 years old during the school holidays. From 9:30 a.m. to 11:30 a.m., they will be able to play, laugh and have fun while parents enjoy the good time in complete serenity.

Leave your children safe with our trained and qualified animators. They will offer a rich and varied program of activities that can suit the greatest number.

From modeling clay for the little ones to treasure hunts through the football or tennis tournament for the older ones, the kids club is the perfect place to keep your children busy in a fun and recreational way.
Our evening entertainment at the campsite in Belcaire
Spend unforgettable evenings with family, friends or as a couple at the campsite with entertainment in Belcaire.

In July and August, we offer you every week a theme evening or dance evening. When the sun goes down, the summer evenings come alive to the rhythm of shows and concerts. A colorful program.
The campsite is the perfect place to party and unwind! After a sporting or cultural day, what better than a dinner show to relax. Atmosphere and friendliness guaranteed.
Every Monday, we offer a welcome drink to introduce you to our campsite, our services and all the activities to do in the surroundings. Every week, vibrate to the rhythm of a live and intimate concert. Also enjoy the famous pool party where everyone can enjoy the pool at nightfall in a musical atmosphere.
The lakeside, our bar-restaurant and our activities